What it's Really Like Living in Barcelona's Gothic Quarter
November 21, 2020
Ever wondered what it's like living in Barcelona's Gothic quarter?
Every year this (in)famous old town neighbourhood attracts millions of international tourists charmed by its stunning architecture, labyrinthine streets and intriguing nooks and crannies steeped in two thousand years of history.
But for many Barcelonians, the Gothic Quarter is synonymous with noise, dirt, and overtourism.
So what's the truth?
Having lived in the heart of Barcelona's Gothic Quarter for the past five years, I'd like to give you my take on what it's really like living in the city's oldest and most famous neighbourhood …
***
"Isn't it really noisy?"
"I bet there's always loads of tourists"
"Isn't it dirty?"
"Do you feel safe?"
These are the most common reactions when people find out I live in the Gothic Quarter.
While there's a grain of truth in all of these assumptions, there's more to Barri Gòtic than first meets the eye. Read on to discover the real deal about this old town gem.
Is the Gothic Quarter Noisy?
With year-round heavy footfall and bars and restaurants filled to bursting every night of the week, people think Barri Gòtic must be incredibly noisy.
Well, I'd be lying if I said it was quiet at any time of the day or night.
All my house guests have trouble sleeping through the cacophony of unfiltered sounds penetrating our old single-pane windows. In pre-pandemic times there were always people out on the streets and in one of the most densely-populated cities in Europe, that can create a mighty din.
The good thing is, you forcibly adapt to this background murmur of coming and going. And aside from odd singing drunk wandering back from Las Ramblas at 3am and the rubbish trucks making the rounds at midnight, it's not so bad.
Noise here comes from an unexpected source
Speaking from personal experience, the main source of noise here actually comes from construction sites. Businesses open and close like it's going out of fashion, so shopfronts are constantly gutted and renovated. The result is a cruel 8 o'clock alarm clock of pneumatic drills shaking you out of your dreams. It's no problem if you're away at the office, but it's a headache-inducing nightmare for the home office.
On the other hand, living in Barcelona's Gothic Quarter offers a massive advantage over other neighbourhoods – there's no traffic! With the exception of the occasional taxi or delivery trucks, the Gothic Quarter is a totally pedestrianised zone. So Gótico is delightfully free of the tooting and honking of built up areas like Eixample, as well as the accompanying pollution.
So, is Barcelona's Gothic Quarter noisy?
Kind of. It's not quiet, but it's not noisy for the reasons you first think.
Plus, you quickly get used to the sound scape and have the added bonus of no traffic noise to contend with. Who knows, you might even find it relaxing to hear good street musicians playing under your window, and the subdued humdrum of shoppers might help you drift off into your afternoon siesta.
Of course, everyone has their own noise tolerance. People like me can sleep through fire alarms, burglaries, and violent riots. Others wake up if they hear their cat sneeze. So think carefully about your personal sound sensitivity before moving to the city centre.
Is the Gothic Quarter Overrun with Tourists?
In a normal year, the answer would be a resounding "yes!". But since the start of the COVID-19 pandemic, the Gothic Quarter has become eerily quiet.
Without the usual hordes of tourists, unemployment has skyrocketed in a neighbourhood largely reliant on tourism. "To Let" signs have sprung up like wild mushrooms as countless businesses have been forced to pull down their shutters, many of them for good. Visiting the Gothic Quarter now feels like entering an abandoned theme park.
It was always clear that Barcelonians weren't the target clientele of its once thriving tacky souvenir shops, overpriced boutiques and restaurants selling frozen paella. But COVID-19 has highlighted the dangers of the Gothic Quarter's reliance on tourism and the need to diversify.
On a positive note, 2020 has put an (if probably only temporary) end to the saturation of Airbnbs and other short-term rentals in the historic centre. Since tourists packed up their bags at the start of the year, we've already seen an increase in the availability of housing and an accompanying fall in prices. This is welcome news to locals as tourist accommodation is undoubtedly a contributing factor to the Gothic Quarter's rapidly increasing house prices. Falling property prices will hopefully bring back locals who were previously priced out of the area.
In summary, while I don't see the presence of tourists as a problem in itself, after all they're just holidaymakers trying to have a good time, it's true that the Gothic Quarter has become saturated and needs to reinvent itself. Hopefully the council will learn some lessons from 2020 and we'll see the development of business and services that serve the needs of both the local community and visitors.
Is the Gothic Quarter Dirty?
When I first moved here I was shocked.
Cockroaches, streets reeking of stale urine, rubbish piled up outside people's doors and used condoms on Las Ramblas and its side streets made Barcelona the dustiest, smelliest and dirtiest corner of Europe I had ever visited. (Since then, I've seen parts of downtown Athens which make Barcelona look like Switzerland in comparison, but that's another story).
But over the past five years I've changed my mind.
Barcelona's Gothic Quarter certainly has a lot of room for improvement but it's not as horrendous as I first thought.
First of all, cleanliness varies wildly depending on which part of the Gothic Quarter you're in.
Some streets (especially the wider ones) are cleaned several times a day, both by local businesses and an army of street cleaners who collect rubbish and spray the streets with water and disinfectant day and night.
Other areas are made up of winding callejuelas that literally don't see the light of day and are the favoured spots for a late night drunken pee. Such streets rarely get cleaned.
Generally, anything north of the shopping street Carrer de Ferran is relatively clean, whereas south of this dividing line, cleanliness takes a nosedive.
But what about the rubbish?
Coming back to the rubbish outside of people's houses, I soon discovered that Gótico's narrow streets offer little space for waste containers. That's why residents leave their rubbish outside their buildings between 8-10pm for collection. And one night per week bulky items like old sofas and tables are collected. So if you see mountains of bin bigs, mattresses and wardrobes on the street outside people's doors, you can rest assured the residents aren't pigs, they're just disposing of their waste according to council guidelines.
In summary, the Gothic Quarter is unarguably filthy in parts, whereas in other areas it's perfectly fine (for streets and buildings dating back thousands of years). It's a real cleanliness lottery. I think it's important to remember though that in an area as busy and ancient as the Gothic Quarter, keeping it "clean" by any standard is a real challenge. Some of the ancient buildings have had millennia to collect dust and dirt and house thousands of generations of mice and cockroach infestations. Barcelona's legion of street cleaners fight a daily battle to keep the streets clean and I'm honestly not sure what more they could do. If you have any ideas, please let me know in the comments below!
Is the Gothic Quarter Safe?
On my first visit I felt intimidated. At night the maze-like streets with ancient buildings bulging and towering overhead made me feel vulnerable. The men who hang around dimly lit street corners offering cerveza, weed, ecstasy, MDMA and cocaine all in one breath didn't do anything to relieve my fears.
Nowadays, I feel totally at home and confident in The Old Town.
Of course, no neighbourhood is 100% safe. Pickpocketing is a massive problem in all of Barcelona, and violent daylight muggings aren't unheard of. Several important buildings are located in Barcelona's Gothic Quarter such as the Palau de la Generalitat, City Hall and Police Headquarters on Via Laietana. This makes it a hotspot for violent protests, riots, looting and terrorist attacks.
On a daily basis, I feel very safe in my neighbourhood. After all, the drug dealers just want to make some money, not hurt you. The same for the prostitutes who aggressively solicit my fiancé for sex while crossing Las Ramblas alone. Violent riots are a regular occurrence but you're unlikely to get caught up in it. Barcelona, like many other cities, faces the threat of terrorist attacks, but the risk of you being affected is miniscule.
All in all, I don't think the Gothic Quarter is more dangerous than Barcelona's other neighbourhoods, at least not on a daily basis. Plus, the fact that there's always people around and noise travels easily reassures me that someone would hear your shouts if you needed help.
So is Barcelona's Gothic Quarter dirty, loud, dangerous and overrun with tourists?
Erm, actually yeah it kinda is.
Or at least it can be.
It depends on exactly where and when.
If you're here now, you're likely to find it relatively quiet, clean, safe and deliciously tourist free.
In general though, I'd argue that it's not as bad as you might first think.
Okay, I know what you're thinking:
"You're not exactly selling it!"
Well, there are actually some amazing privileges that come with living in El Barrio Gótico.
Everything's on Your Doorstep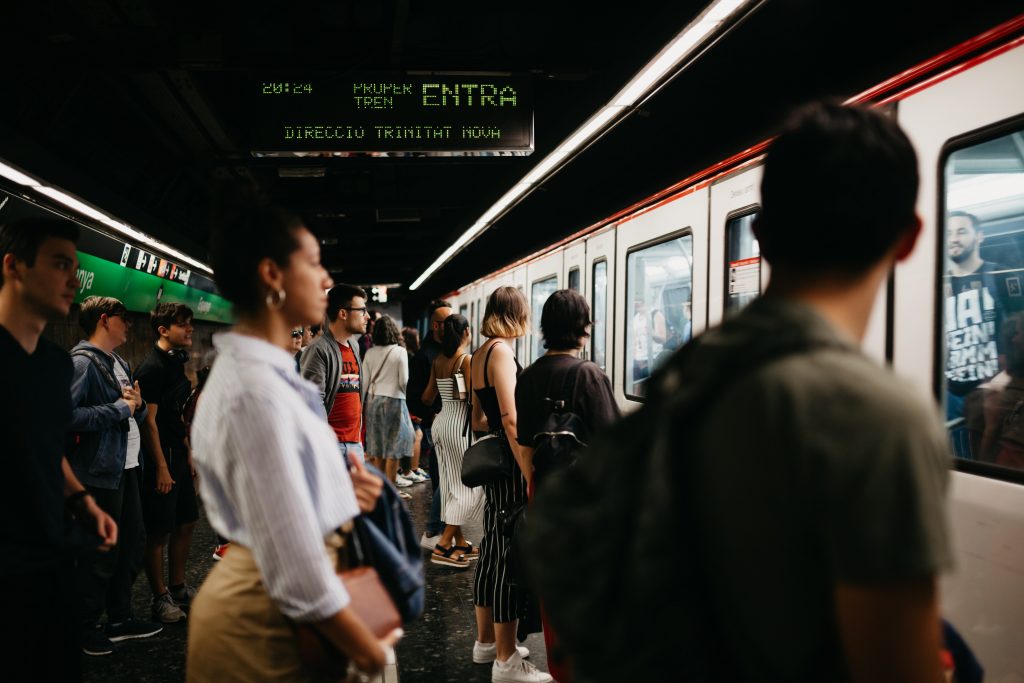 As the Gothic Quarter is just a stone's throw from major transport hub Plaça Catalunya, you have easy access to most train and metro lines. This means it never really takes more than 30 minutes to get anywhere in the city.
Its downtown city centre location also means you're only a short walk away from other fantastic neighbourhoods like rough and ready Raval, up-and-coming Sant Antoni, pintxo-filled Poble Sec, beautiful Born, modernista Eixample and buzzing Barceloneta. And let's not forget Parc de la Ciutadella and the beach, both a breezy 15 minute walk away!
Plus, do you even need to leave Gótico? From terrific restaurants, hidden bars and shops galore, the Gothic Quarter has everything you need to entertain yourself.
There's Always Something Happening
Unlike more, let's say, residential neighbourhoods, *cough, cough, Les Corts*, there's never a dull moment in Barri Gòtic. This is definitely the place to be if you want to be wooed by larger than life King's Day processions, open-air concerts, street performers, colourful carnival parades complete with gegants and capgrossos, cute Christmas markets and castellers.
It's Beautiful
While scruffy in parts, Barcelona's old town is undeniably beautiful. Its gorgeous architecture and winding streets make it a pleasure to walk around. It's a real treat to live in a neighbourhood home to gems like Barcelona Cathedral, Plaça de Sant Felip Neri, Basílica de Santa Maria del Pi, and Plaça Reial.
So, What's it Really Like Living in Barcelona's Gothic Quarter?
Noisy, overcrowded, dirty?
Maybe.
But living here is certainly never boring! And once you've lived in downtown Barcelona, where it's so easy to get around and you walk by breathtaking buildings on a daily basis, it's hard to imagine living elsewhere.
Living in Barcelona's Gothic Quarter is definitely not everyone's cup of tea, but personally, I love it!
Of course, I have my biases. After living here for five years I have my local cafés and bars, I know my neighbours, and can finally navigate the labyrinthine streets without getting lost (usually) – in short, I feel at home.
Would I ever move?
Probably. Eventually I'd love to move even closer to the sea, but for now, I wouldn't change my city centre apartment for the world.
***
I hope you've enjoyed reading this insight into what it's like living in Barcelona's Gothic Quarter. If you know anyone who you think would enjoy this article, please pass it on. And if you're considering moving to Barcelona's Gothic Quarter and have any questions, don't hesitate to get in touch.
Sending you sunshine and positivity from Barcelona!
If you liked this article, make sure to check out Spain Without Tourists – Nightmare or Utopia?
Can you imagine yourself living here? If you live in the Gothic Quarter, do you have any other comments you would add?
I love hearing from you! Scroll down to the comments below to leave me a message. And remember, sharing is caring!