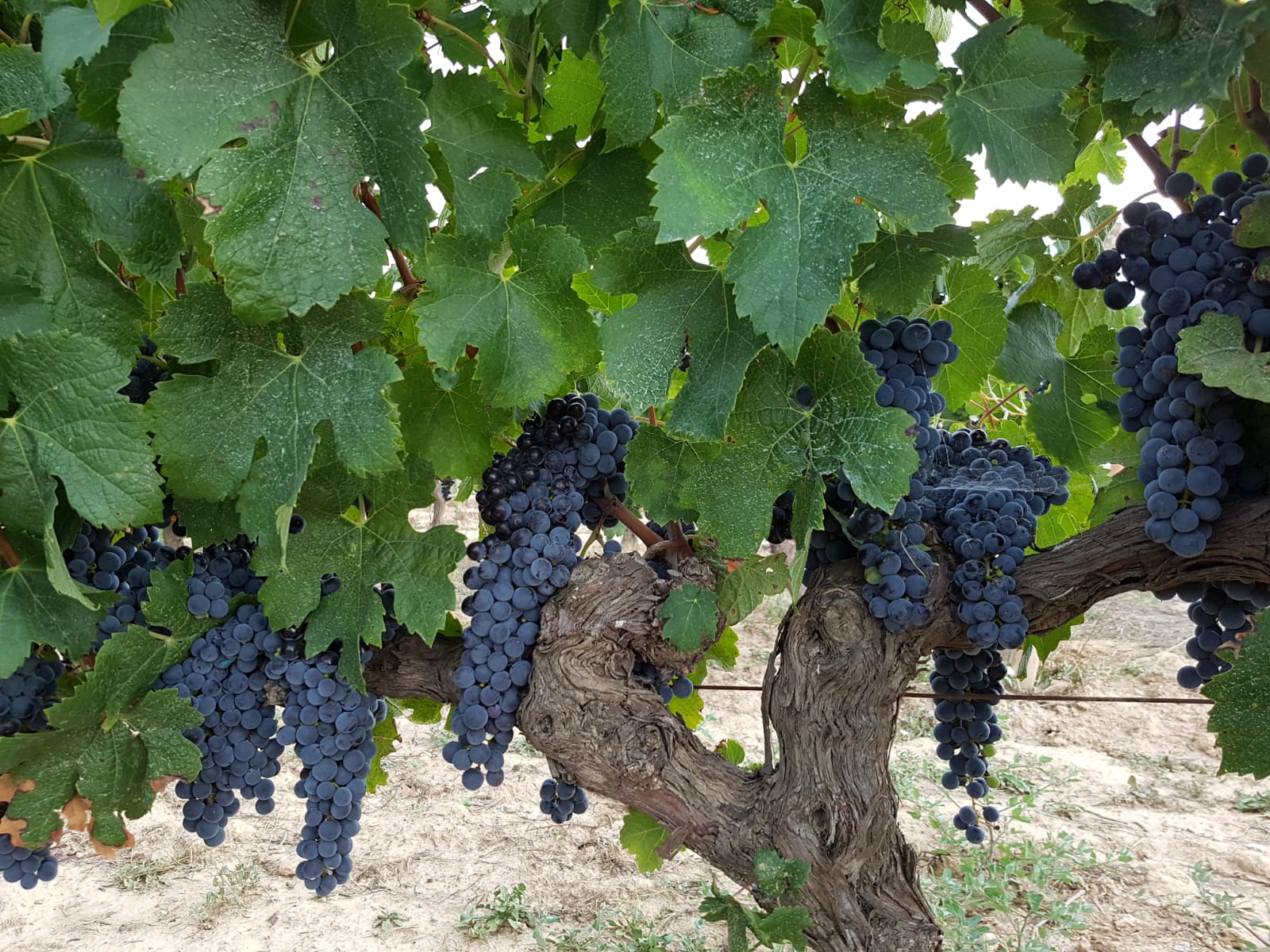 Top 5 Wineries Near Barcelona
September 8, 2019
When I moved to Barcelona almost four years ago, I discovered a new love: wine! Cava specifically. Whilst I've always enjoyed wine, it was never my favourite drink. I used to appreciate drinking Blue WKDs and Jaegerbombs just as much as any fine wine and I thought people who sniffed their wine before drinking it and said they could taste berries and chocolate were either deluded or lying.
That all changed when I moved to Spain and started visiting some of Spain's world-class wineries. Having now visited several wineries in Catalonia (all for research purposes of course) I have seen firsthand how good quality wine is produced and it has given me an appreciation of how much work is behind every bottle. Guided wine tastings have really shown me that yes, indeed, you might be able to smell berries and chocolate in a wine, or even butter, apricot, pepper, or pretty much anything you can imagine really.
I would strongly recommend adding a winery visit on your to-do list. No matter your knowledge of wine, you will definitely learn a lot from each visit, and have a lot of fun in the process, especially in the tasting sessions.
However, knowing which of Spain's over 4,000 wineries to visit can be a daunting task and it can often be difficult to find information about visits online, let alone book any, especially if you want to go to some of the smaller, family-run vineyards. Vineyard visits are becoming quite a hobby of mine now and through the process of researching and booking several visits along the way, I've discovered some fantastic ones. So in this week's post I'm sharing my selection of the Top 5 Wineries to visit which are good value, close to Barcelona, and guaranteed fun (not just for wine lovers).
So in no particular order, let's begin!
1. Parés Baltà – The Biodynamic One
Just last weekend I visited Parés Baltà and I have to say I loved it from start to finish. This winery is just a ten-minute drive from the charming town of Vilafranca del Penedès, which happened to be celebrating its Festa Mayor the day we arrived. (If you're interested in seeing a very authentic Festa Mayor in the countryside, Vilafranca's is well worth a visit and takes place every year between 28th August to 2nd September.)
After soaking up the party atmosphere and watching the impressive castellers, it was time to get a taxi to the vineyard. When the taxi driver heard where we were going, he immediately commended us on our good choice and started to tell us enthusiastically about what a marvellous time we we would have. This was going to be a good day it seemed. Things got even better when we found out there was only one other couple booked on the same tour as us. After being met by our extremely affable and knowledgeable guide, Martí, we were led outside to take in the beautiful vineyards which were heavy with big, juicy grapes ready to be harvested.
Martí told us all about how the vineyard worked and the biodynamic farming practises they employ there. I must admit, some of it sounded a bit ritualistic to me such as burying hollow cow horns filled with ground quartz to harvest cosmic forces in the soil. However, it was incredibly interesting and the attention to detail and great care given to the wines is evident: the proof is in the pudding, or, as it were, in the delicious wine.
After a tour through the vines we were led downstairs to this dungeonesque wine cellar, where all the goodies are stored.
This fascinating tour was naturally topped off by tasting the wines we had been learning about. Incidentally, the wines are named after the female members of the Parés Baltà family, as they all have pivotal roles in the stages of wine production – from oenological research to the manual harvest itself. The package we bought included a tasting of 4 wines but in the end I think we tried about 7 (clearly wine impedes my ability to keep count after a while). Martí taught us some different tasting techniques and got us to compare what we could all smell and taste, which was surprisingly different at times. I might smell red berries, whilst my fiancé might smell old leather shoes.
Unlike many vineyards which are not transparent about their prices and make you send off an inquiry form before telling you times and prices, Parés Baltà provides you with prices, a calendar of available times and dates for tours in English, Spanish and Catalan and allows you to make an easy online booking. Click here to book.
Where? Masia Can Baltà 08796 Pacs del Penedès
How to get there: Take the R4 train from Plaça Catalunya or Sants (direction Sant Vicenç de Calders) to Vilafranca del Penedès . (Takes about 1 hour) Then take a 10 minute taxi ride to Parés Baltà.
What? 1.5 hour tour with a tasting of four wines
How much? €15 (plus train tickets, which cost about €10 for a return ticket from Barcelona)
More information: https://paresbalta.com/en/wines-and-cavas-by-pares-balta/visits/penedes-tour/penedes-tour-visit-in-english/
2. Pere Ventura – The Bubbly One
The following three wineries are located in Sant Sadurní d'Anoia, also known as the capital of cava, which, like the previous winery, is in the Penedès region of Spain.
Producing 95% of all Spanish Cava, the Penedès really is the home of cava and this is reflected in Pere Ventura, a relatively young winery founded in 1992 which produces nothing but cava – my dream come true! A tour at Pere Ventura will teach you all about cava production, show you the inner workings of a cava cellar and tantalise your taste buds with a guided cava tasting at the end. I went here with my fiancé and we were again delighted to be the only guests on the tour that day and we were thoroughly impressed by the incredibly generous amount of scrumptious cava we glugged and appetising pica-pica* provided. Make sure to try their award-winning Vintage Rosé Gran Reserva – it's a treat!
*pica-pica is basically snack food that you can eat seated or standing and which normally consists of olives, crisps, nuts, jamón or any other food which can be eaten without cutlery.
Top Tip: If you need some guidance about where to go, what to do, etcetera, the staff at the Sant Sadurní d'Anoia Tourism office are extremely friendly and helpful and can provide you with information about all the wineries and experiences on offer in the town. Activities include visiting the local chocolate factory (totally worth it) or riding electric bikes through the vineyards and the staff at the tourism office can even call the wineries for you to book visits. Moreover, attached to the info office is the Cava Interpretation centre if you want to find out more about the bubby tipple (and have a taste of course). http://www.santsadurni.cat/document.php?id=10393&idioma=en
Where? Ctra. de Vilafranca c-243a, km 0,4 — 08770 Sant Sadurní d'Anoia (Barcelona – Spain)
How to get there: Take the R4 train from Plaça Catalunya or Sants (direction Sant Vicenç de Calders) to Sant Sadurní d'Anoia. (Takes about 50 mins) Then walk 25 minutes to the winery or take a 7 minute taxi ride.
What? 1.5 hour tour with a tasting of five cavas and a very generous pica-pica.
How much? Around €15 the last time I checked. Note: the actual vineyard is located further away from the winery and so this is not included in the general tour.
More information: https://www.enoturismepenedes.cat/es/guia-de-servicios/bodegas-y-cavas/pere-ventura
3. Recaredo -The Traditional One
Recaredo is the go-to choice for cava lovers as this family-run winery specialises in making only vintage brut nature long-aged sparkling wines (some of which are aged for nearly 30 years!). Having just 65 hectares of vineyards, this winery focuses on quality rather than quantity and the almost obsessive care and attention that is paid to the entire wine-making process can definitely be tasted in the end product. Harvesting by hand may take longer, alongside the other processes they still carry out manually, but it ensures that even the tiniest details don't go unnoticed.
Although their techniques are traditional, this is a forward-thinking winery and one of the leaders in the world of cava. For instance, Recaredo was the first producer in the Penedès to obtain Demeter's international certification for biodynamic viticulture.
Although biodynamic farming is a bit mystical, there are definitely aspects of it that I find make perfect sense. One of which being the use of sheep. What do sheep have to do with wine? Well, a lot apparently. In contrast to much of modern viticulture where "weeds" are eradicated with herbicides, in biodynamic viticulture, vegetation is allowed to grow naturally between the vines. This plays an essential role in fostering biodiversity in the vineyard by attracting pollinators, regulating water retention and preventing soil erosion.
However, after a while those plants can start to compete with the vines for water. To prevent that from happening they need to be trimmed down. And how can you do that? With an eager army of hungry sheep. Not only do the sheep eat the vegetation, they till the ground as the walk up and down the vines and are very good at leaving a trail of natural fertiliser behind them. The sheep are happy because they get some yummy food and the vines get their poop. It's a no-brainer really.
Need any more convincing that you should check out Recaredo? Recaredo was also the first producer of sparkling wines in the world to receive the Aged with Cork certification granted by the European Cork Federation. Recaredo was also recognised as Catalonia's Best Winery 2017 by the Catalan Association of Sommeliers (ACS).
In summary, if you want to visit a winery that has been run since 1924 by the same family for four generations, which cultivates only organic and biodynamic cava, where things are done with care by hand, Recaredo is the one for you!
Where? Carrer de Tamarit, 10, 08770 Sant Sadurní d'Anoia, Barcelona
How to get there: Take the R4 train from Plaça Catalunya or Sants (direction Sant Vicenç de Calders) to Vilafranca del Penedès . (Takes about 50 minutes) Then walk for about 10 minutes to get to the winery, which is conveniently close to the Tourism Information Office.
What? 1.5 hour tour of the winery with a tasting of 3 cavas. (Note: the actual vineyard is located further away from the winery and so this is not included in the general tour.)
How much? Around €15 last I checked
More information: https://www.recaredo.com/en/
3. Vilarnau -The Fun One
I talked about Vilarnau in my last blog post September: The Best Time to Visit Barcelona so I will just touch briefly on it here. In summary it's a great winery to visit to see how cava is made and enjoy a tasting in the beautiful surroundings of the vineyard. They offer a range of wine related experiences such as grape-treading tours in September (a must-do), Segway tours through the vineyards and you can even take part in a paella-making competition with the help of a chef, some music and plenty of cava of course! You can check out all the tours they offer here. Vilarnau is also an event space for businesses and weddings. Ever fancied getting hitched in a vineyard? Maybe Vilarnau is the place for you!
I've visited Vilarnau twice now, once for the standard tour and once for the grape treading in September, and I would highly recommend both. I was particularly impressed that they cater to all the family. On our last visit there were quite a lot of children on the tour (of course there were, children in Spain are along for the ride almost anywhere at any time) and I thought it was fabulous that the children were involved and taken on their own kid-friendly tour of the vineyard where they could taste the grapes and their juice, allowing their parents to have a more leisurely time in the vineyards.
Where? Vilarnau, Carretera d'Espiells, Finca Can Petit, 08770 Sant Sadurní d'Anoia, Barcelona
How to get there: Take the R4 train from Plaça Catalunya (direction Sant Vicenç de Calders) to Sant Sadurní d'Anoia. The train journey takes around 50 mins. Then take a 10 minute taxi ride to the vineyard.
What? 1.5 hour tour of the vineyard as well as the wine cellar rounded of by tasting three of their cavas.
How much? €15
More information: https://www.vilarnau.es/en/experiencies/visites
5. Alta Alella – The Beautiful One
Our fifth and final winery is Alta Alella, a relatively young family-run winery which has practised certified organic farming techniques since its foundation in 1991. Alta Alella is a great choice if you want to visit a winery close to Barcelona which offers a wide range of delicious and organic wines. The vineyard is located just 2km from the Mediterranean sea and it is truly a delight to taste some of the award-winning wines produced at Alta Alella on the terrace with a sea-view.
This estate produces up to 50 different wines, including natural wines and cavas produced with low intervention and no added sulphites. To honour the nature and biodiversity which allows their vineyards to thrive, these natural wines and cavas are all named after the birds that live in the Serralada de Marina's Natural Park where the vineyard is located.
Top Tip: For any winery tour I would strongly recommend taking a jacket or at least a light scarf for visiting the wine cellars as it does get rather chilly down there.
Where? Camí Baix de Tiana, 5, 08328 Alella, Barcelona
How to get there: By taxi it's around a 30 min drive from Barcelona. Unfortunately I haven't found any direct way to get there by public transport, but if you can share a taxi with friends it shouldn't break the bank.
What? 1.5 hour tour of the vineyards and wine cellars complete with a tasting of 4 wines and/or cavas.
How much? €20
More information:https://altaalella.wine/en/#visitus
So there you have it, my selection of the Top 5 wineries close to Barcelona.
I'd love to hear what you thought of this post in the comments section below.
Have you been to any vineyards you would recommend? I'm always on the lookout for new wineries to visit and any suggestions are much appreciated.
So until next week, sending you positivity and sunshine from Barcelona!
I love hearing from you! Scroll down to the comments below to leave me a message. And remember, sharing is caring!