Top 5 Cheap and Cheerful Bars in Barcelona
November 17, 2019
Want to go out for drinks in Barcelona but on a tight budget? Then you're in luck my friend, because this week's article is my compilation of the city's top five cheap and cheerful watering holes. Featuring bars where you can quaff artisanal cava, slurp Italian aperitivi and have a selection of over 600 shots, all for pocket money prices.
1. Can Paixano ― The Chaotic Champagne Bar
(Barceloneta) 
Known to locals simply as "La Xampanyeria" (the champagne bar), this beloved Barcelona institution is a traditional fisherman's tavern where people of all ages and walks of life pack themselves together like tinned sardines to get a sip of the bubbly elixir in this cava paradise.
Being a champagne bar (well, cava actually, but it's pretty much the same thing), you'd be forgiven for thinking this place would be fancy and expensive, but there's nothing pretentious about this place. The cosy bar whose floor is littered with used napkins and soiled by the inevitably spilled drinks makes you feel at ease from the get-go. And whilst it has become increasingly popular with locals and tourists alike since its opening in 1969, it's fortunately retained its original charm.
This is your go-to for glugging a range of artisanally made cava served in glamorous vintage-style goblets without breaking the bank – a glass won't set you back any more than €1.50 – but you may as well just share a bottle of their famous Rosat Can Paixano for €8.60 a bottle.
Oh and you should definitely soak up all that booze with some delicious tapas – in fact, you'll have to if you order a bottle. In an attempt to prevent people from getting too tiddly, there's a rule that you have to order some tapas to accompany your drink. Options include a delicious range of hot sandwiches, olives, cheese and meats. And pan con tomate for 10 cents?! Yes, please!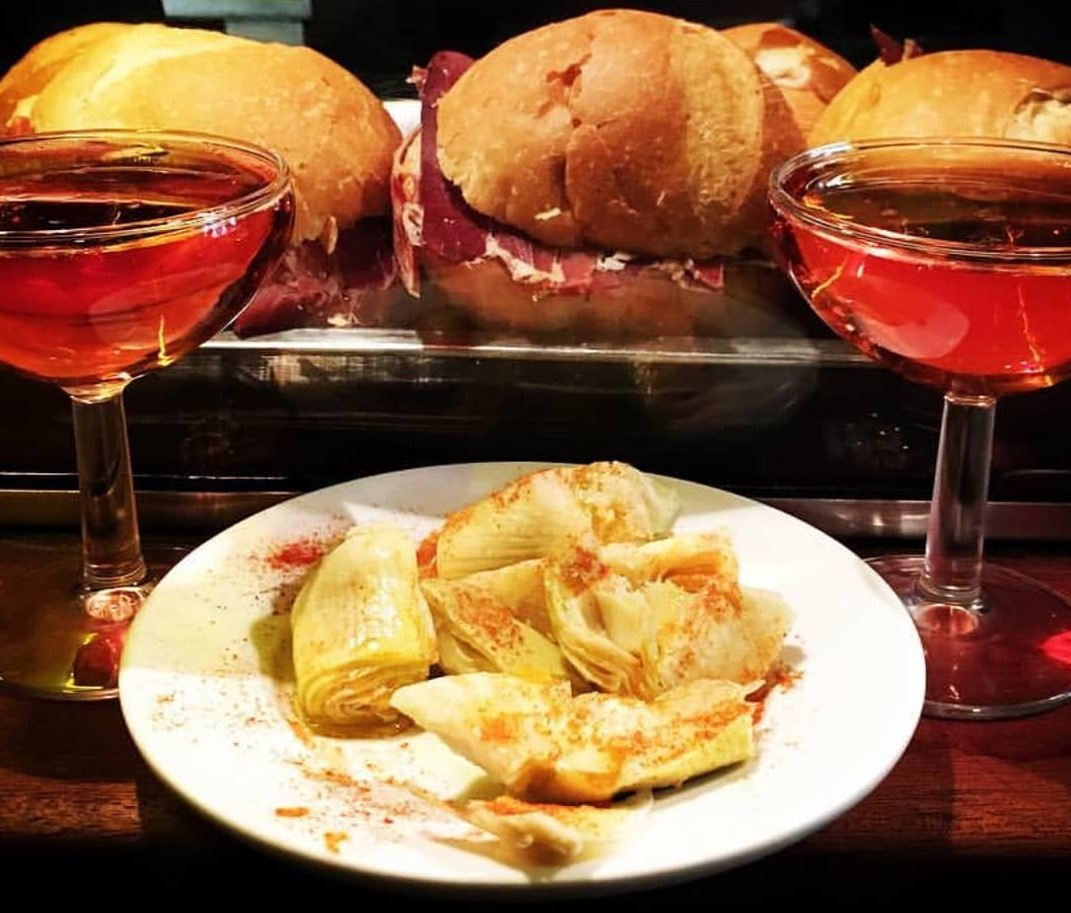 La Xampanyeria also has a shop selling bottles of cava, sausages and a variety of canned goods, so you can take some goodies home. You'll have to fight your way to the back of the bar first though! Of course, for quality food with such low prices, it's packed every night of the week. There are no seats (or at least none that are visible through the mass of human bodies), so you have to eat and drink standing, whilst hoping nobody knocks over your very classy but terribly spillable cava glass.
Understandably, some people might not like the crowds, in that case I advise you to go as early as possible or miss this suggestion out all together. However, I personally love it, as the bar always has a lively and chaotic atmosphere. I think it might even be a shame to go there and find no crowds. Plus, it's easier to make friends when you're drinking a glass of cava whilst wedged between a stranger's armpit and a dangling ham.
Where: Carrer de la Reina Cristina, 7, 08003 Barcelona (Barceloneta)
If you can't venture down to the seaside district, there are several other fun cava bars throughout the city. Why not try Champanillo in Eixample?
Nearest metro: Barceloneta (yellow line)
Opening times: Mon – Sat, 9am – 10:30pm. Closed on Sundays.
More info: http://www.canpaixano.com/
2. Spritz ― Italian Aperitivos Al Fresco
(Gòtic)
As the name suggests, this is the place to go to for a refreshing Aperol Spritz, or any other Italian aperitivo for that matter: Campari Spritz, Negroni, Sbagliato… all served with free popcorn. With an Aperol Spritz as well as big baguettes and panini each costing around €4, Spritz is where you can get fed and watered on the cheap and enjoy the lively and informal atmosphere. This is a tiny bar without much seating inside, so join the throngs of young locals and tourists who frequent this no frills bar by ordering your pre-dinner tipple to go and then slurp it on the steps of the cathedral around the corner.
Where: Carrer de la Tapineria, 4, Gothic Quarter (just around the corner from Barcelona cathedral)
Nearest metro: Jaume I (yellow line)
Opening times: Every day 11am until 10:30pm
3. L'Ovella Negra ― The Debauched One
(Raval/Poble Nou)
L'Ovella Negra (The Black Sheep) is a down and dirty dive which pulls in a young and raucous crowd. This place is huge, so there's always a free table, making it the place to come to with a big group of mates to have some tapas, share massive beer towers, litres of sangria and have a game of table football or pool. With the drinks shockingly cheap, the atmosphere in this popular bar can get debauched very quickly, so this is not one for the fainthearted, but tipsy fun is guaranteed. And, the decor here is reminiscent of a rustic tavern, so at least you can get drunk in pleasant surroundings.
Where: L'Ovella Negra has two bars, one of them in the Gothic Quarter on Carrer de les Sitges 5 and the other in Poble Nou on Carrer de Zamora, 78, 08018 (near Carrer de la Marina), which makes it the perfect place for pre-drinks before a night dancing at Razzmatazz or any of Barcelona's other nightclubs in the @22 innovation district.
Nearest metro: Plaça de Catalunya for the Gothic Quarter bar and Bogatell (yellow line)/Marina (red line) for the Poble Nou bar
Opening times: The Gothic Quarter's is open from 5pm – 3am during the week and 5pm – 3am Friday – Saturday. The same for the Marina bar apart from it opens at 8pm during the week and is closed on Sundays and Mondays.
More info here:http://ovejanegra.es/
4. Manchester Bar ― The Musical One
(Gòtic/ Raval)
This one's for British rock/alternative music fans who want cheap beer and to experience a little bit of England in Barcelona's historic centre, complete with genuine sticky floors and stale beer smell. Music from British bands like The Prodigy, Oasis, Joy Division and The Smiths, plus cheap drinks, makes it a favourite among students and travellers on a budget. To make your money go further, get there before 10pm to enjoy the happy hour prices – €1.50 for beers and €5 cocktails.
Where: Manchester Bar actually has two bars, one on Carrer de Milans 5, (incidentally a very architecturally interesting street, perfect for Instagram snaps), and the other on Calle Valdonzella, 40 in Raval. I've only been to Gòtic one but lots of people say the Raval bar is nicer! 
Nearest metro: Jaume I (yellow line) for the one in Gòtic, and Universitat (red or purple line) for the Raval bar.
Opening Times: 6:30pm – 2am during the week and (until 3am Fri – Sat)
5. Espit Chupitos ― Shots Galore
(Eixample)
Offering over 600 different chupitos (shots), the sheer range of concoctions Espito Chupitos dreams up will astound you. Usually I don't even like shots, but with so many on offer, the bar staff will have no problem helping you find something you like. Not only are the shots delicious, they each come with their own gimmick, meaning every time you order a drink, you basically get a free show, some of which include having cream squirted into your mouth, receiving a head massage from the bar staff or setting the bar top on fire.
At just €2 each, they won't burn a hole in your pocket, and will give you ample dancing fuel for a night on the tiles, making this is a great place to head to before a night out with friends.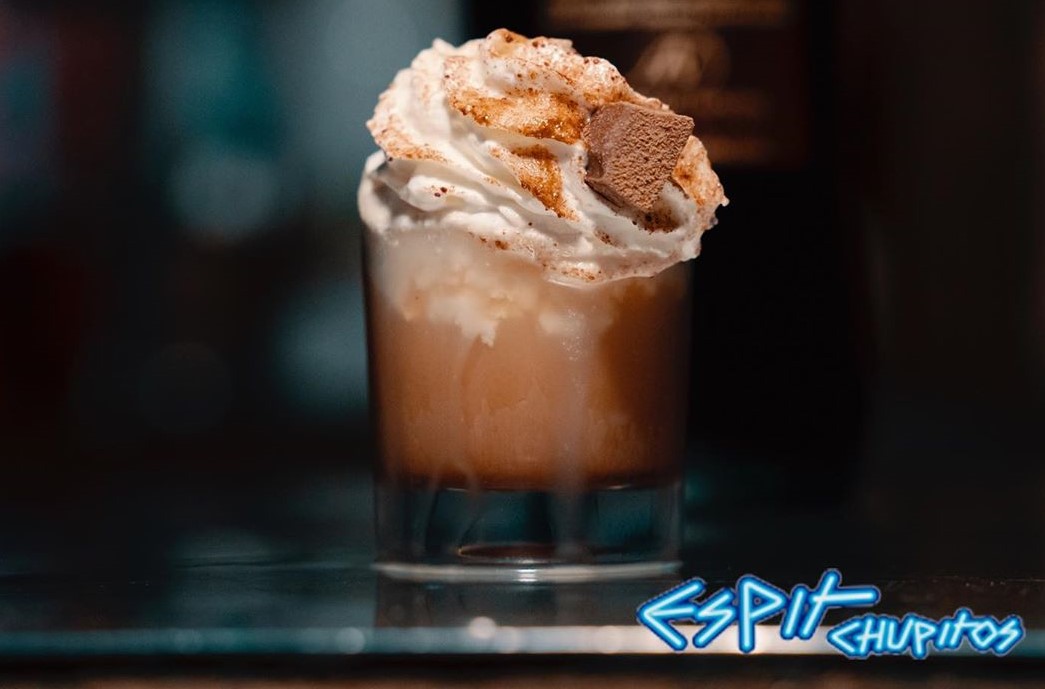 Where: Espit Chupito's first bar was opened in Calafell in 1989 and has since expanded to 25 bars in Spain and France. The bars in Barcelona are found on Carrer Aribau 77, Passeig de Colon 8 and Consell de Cent 268.
Opening Times: 10:30 pm – 2:30am during the week and until 3am at the weekend. Closed on a Sunday apart from the one on Carrer Aribau, which stays open for the party animals.
More info: http://www.espitchupitos.com/
I hope you enjoyed this top 5 compilation of Barcelona's cheap drinking holes. If you did, please give it a like or share it with friends. And if you have any other suggestions for cheap bars, I would love to hear in the comments section below.
Sending you sunshine and positivity from Barcelona!
I love hearing from you! Scroll down to the comments below to leave me a message. And remember, sharing is caring!