Spain: the land of Sun, Sea and … the World's Biggest Lottery?!
December 22, 2019
If you read last week's blog post, you'll know that it wouldn't be Christmas in Spain without spending at least 20 Euros in an attempt to win the lottery, but this national pastime is such a treasured, elaborate institution that explaining it properly deserves a whole post of its own. I'm going to explain how Spain's obsession with Christmas gambling started, how the surprisingly complex system works, as well as why you absolutely must buy a ticket if you don't want to risk crying into your Christmas dinner whilst your entire village celebrates winning the jackpot.
How did the Spanish obsession with the lottery start?
The Spanish Chritstmas lottery (El Sorteo Extraordinario de Navidad) is the world's biggest lottery in terms of cash prize payouts and has been organised every year since 1812, even during the Spanish Civil War and during Franco's regime, making it the second longest continuously running lottery in the world. It was initially set up to raise money for Spanish troops fighting against Napoleon's armies and was an instant hit. It turns out, people are significantly more enthusiastic about buying lottery tickets than paying their taxes.
Since then, it's only grown in popularity. It's not at all uncommon to see massive queues spilling out of betting shops whenever there's a special lottery draw with a sizeable jackpot. And with the Spanish betting a higher proportion of their income than almost any other nation – around €1.9 billion a year, equal to around €480 per head or about 15 percent of the average net household income – we could say that the lottery is a national infatuation.
To meet demand there's a wide range of lotteries run by the Spanish and Catalan governments, such as La Primitiva, and La Grossa, as well as by the National Organisation for the Blind, La ONCE, whose ticket stalls are staffed by blind and disabled people. By law, lottery prize money distributed to the winner(s) needs to reach 70% of the total sum of tickets sold each draw, with the remaining 30% going to the state and various charities, so it still fulfills its original purpose of raising considerable funds for the government.
If you want to take part in this Spanish tradition, make sure to buy a ticket from one of the many little kiosks on the street or in one of the estancos (tobacconist shops). Even if you're visiting Spain in summer you can still get your hands on a ticket – the Christmas lottery usually goes on sale from mid-July!
How does the Spanish Christmas lottery work and what makes it special?
The Spanish lottery works unlike any lottery out there:
The Sorteo Extraoridinario is based on tickets (billetes) pre-printed with a five digit number ranging from 00000 to 99999. This system only produces 100,000 unique ticket numbers, so to produce more tickets, each ticket number is printed multiple times in several series. The number of series changes every year, but in 2019 there are 170 series so there will be "Series 001 Ticket 00000" through to "Series 170 Ticket 99999", meaning that there'll be 170,000 tickets for sale.
Usually lottery outlets only sell one or two numbers, so the winners often live in the same village or work in the same company. This is perhaps one of the main reasons why so many Spaniards play the Christmas lottery. Imagine all of your village or workmates winning, whilst you kick yourself for not playing! That, plus the lottery's significantly increased odds.
The probability of winning a cash prize in Spain's Christmas lottery is considerably higher than most other lotteries as more than 10% of tickets win some sort of prize. Chances of winning the top prize, El Gordo ("the fat one"), are 1 in 100,000, (0.001%). Compare that to the 1 in 139,838,160 (0.00000072%) chance of winning the EuroMillions jackpot. I know which one I'd rather play!
But there's a twist. With each ticket costing €200, most people just buy a tenth of one for €20 (un décimo), entitling them to 10% of any prize that ticket has won. Aside from décimos, you can also buy participaciones for a couple of Euros from many bars, restaurants and shops, which are even smaller than décimos. In practise, most people actually buy several décimos and participaciones – the average Spaniard spends around €68 on these lottery tickets. Told you they're obsessed!
However, these investments in the lottery perhaps make sense when you consider the increased chances of winning and the fact that there are thousands of cash prizes to be won.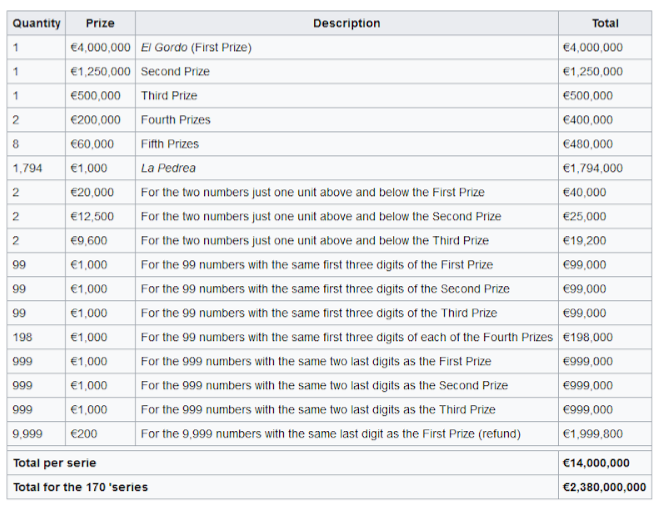 Unsurprisingly, people have many traditions related to the Christmas lottery ranging from the diligent to the superstitious, whether that's choosing a number with meaning to them like a family member's birthday or their wedding anniversary, rubbing their ticket on a pregnant belly, standing for hours in long, snaking queues to buy tickets from places which had previously sold winning tickets, collecting décimos from different cities, and even travelling for miles to purchase tickets in the Pyrenean village of Sort, meaning "luck" in Catalan.
Ok, so how do I find out if I've won?
Tune into the live draw which takes place every year at 9am on the 22nd December. Since 2012 it has been held in the Teatro Real in Madrid which fills to the brim with hopeful gamblers, often wearing extravagant lottery-related fancy dress.
In an elaborate show broadcast live on television, numbers are drawn to determine the winning numbers and their corresponding prizes in a ceremony which lasts hours. Why hours? Most lottery draws are over and done with in minutes! Well…
Unlike most other lotteries, two revolving drums are used: the largest containing 100,000 wooden balls, each displaying a unique 5-digit ticket number, and the smaller containing 1,807 balls each representing a cash prize. There's one ball for El Gordo, one for second prize, one for third, two for fourth, eight for fifth and the remaining 1,794 for the smaller prizes called la Pedrea (the pebble-avalanche). In addition to the cash prizes, some prizes are calculated from the winning numbers (see table above for those so inclined), the smallest prize being the reintegro for the 9,999 numbers with the same last digit as the first prize – meaning 10% of all tickets get their money back.
Bearing in mind that there'll be 170 series of the 1st prize number, 4 million Euros could be paid out 170 times to a full sheet of ten tickets with the 1st prize number – meaning the total payout to the first prize amounts to a whopping 680 million Euros. This is the largest lottery in the world after all!
As you can imagine, it takes a long time to draw all the numbers, especially when you take into account that each ball is sung out by children. Yes, as is nearly always the case in Spain, children are involved in everything, even gambling. The children of San Ildefonso school in Madrid work in shifts to draw and sing the numbers from each sphere in a ritual that lasts approximately three hours and often ends with tears from all the nerves and exhaustion of relentlessly singing out all those numbers on live national television.
***
Wow, all of that money and commotion for a chance to win El Gordo. It's not even that much if you bought a décimo – you'll walk away with €400,000. But I think that's one of the reasons it's such a cherished tradition in Spain – "El mayor premio es compartirlo" (The greatest prize is sharing).
And if you're unlucky at Christmas, don't fret, you can always play Spain's second most important lottery, El Sorteo Extraordinario del Niño on 6th January (Epiphany of Jesus Day). Plus, "It's health that really matters after all" as non-winners in Spain say after losing. How true that is. You could be like the unlucky winner José Luis Rodríguez López who won his €400,000 decimo, only to promptly die 3 days later on Christmas day.
I wish all you hopeful lottery players the best of luck!
Sending you positivity and sunshine from Barcelona! 
Sources:
https://www.angloinfo.com/how-to/spain/lifestyle/entertainment/spanish-lottery
https://www.eleconomista.es/especiales/loteria-navidad/historia.php
https://en.wikipedia.org/wiki/Spanish_Christmas_Lottery
https://en.wikipedia.org/wiki/Lottery#Spain,_1763
https://es.wikipedia.org/wiki/Loter%C3%ADa_Nacional_de_Espa%C3%B1a#Sorteos_y_premios
https://es.wikipedia.org/wiki/Loter%C3%ADa
https://www.thelocal.es/20181228/spanish-christmas-lottery-winner-dies-three-days-after-win
https://www.cope.es/actualidad/vivir/loteria-de-navidad/noticias/cuanto-gastamos-los-espanoles-loteria-navidad-20181204_304162
https://barcelonayellow.com/bcn-events-articles/163-el-gordo-spanish-christmas-lottery
https://viaticcouture.com/
I love hearing from you! Scroll down to the comments below to leave me a message. And remember, sharing is caring!