How to Celebrate New Year's Eve Like a Spaniard
December 30, 2019
Spain is famous for its fabulous all-night fiestas, so of course New Year's Eve on the Iberian Peninsula is the party of the year. Noche Vieja, literally the "old night", is an absolute fiestón filled with family, friends, dancing 'til sunrise, and trying not to suffocate on surplus harvest fruit. If you think you have what it takes, read on!
1. Put on your best red undies
Most people want to start the new year well-dressed, whether that's by wearing a sparkly cocktail dress, or donning something new for the occasion. This is also true in Spain, but what's particular here is that you'll see an explosion of red underwear for sale this time of year on the high street. If your New Year's resolution is to fall in love, then wearing lingerie in any hue of red is a must. In some parts of Spain they say this brings good luck only if the undergarments were gifted. In other areas you have to give away your own undies by the end of the night for the love spell to work. I'll let you make of that what you will!
2. Spend the evening with family
Unlike in many other countries, don't expect to see wild flocks of youths already drunkenly stumbling around the streets at 9pm. Unsurprisingly for Spain, Noche Vieja is traditionally spent at home with la família. This invariably consists of eating copious amounts of home-cooked festive food and enjoying (a loud) time together with your loved ones.
Those families who don't spend the evening at home often go out for a gala dinner at a restaurant or gather in one of Spain's many plazas to welcome in the new year, the focal point for new year's celebrations being Madrid's Puerta del Sol (the Spanish equivalent of Times Square), where the main televised countdown takes place. Whether you watch it live at the square or on TV, this street festival masquerading as a communal countdown with a celebrity TV cast is not to be missed.
3. Stock up on plenty of grapes (seedless if possible)
Outside of Spain, welcoming the New Year usually starts amid a loud countdown to midnight followed by whoops and cheers. Here it starts in concentrated silence as people wolf down a dozen grapes before the stroke of midnight, in order to secure good fortune in the new year. Millions of people frantically shovelling this surprisingly large amount of succulent fruit into their mouths within a few seconds is no trivial task and makes for a rather comical and chaotic start to the year. Don't forget to chew and swallow!
The origin of this ritual is murky but it is believed to date back to the late nineteenth century among the upper classes in Madrid. It was subsequently popularised in 1909 when growers in Alicante overproduced grapes. Falling prices and a sustained promotion of the practice meant it eventually became a tradition across all regions of Spain.
Although this may not be glamorous (ever tried to give a New Year's smooch with your cheeks full of grapes and the skins stuck in your teeth?), no Spaniard would ever dream of skipping the grape-guzzling ritual. Wherever they may be on 31st December, you can bet a Spaniard will have their cup of grapes at the ready.
You're meant to eat one grape with every gong as the midnight bell tolls, each scoffed fruit also symbolising a month of that year. This is way harder than it sounds! I've certainly never been able to do it. Better make sure you pick small (and preferably seedless) grapes if you want to be successful with the grape munching and avoid a trip to A&E. And if you don't manage to eat all the grapes in time, don't worry, you get another chance to play your fortune with a drink.
4. Wash down those grapes with a generous amount of cava
Put that bottle of champagne away, we're in Spain, so of course we'll be celebrating with Spanish bubbly. If you manage not to asphyxiate during your grape-inhalation trial, you can reward yourself with a refreshing glass of cava. Watch out though, this too comes with a choking hazard! Some Spaniards put a small trinket at the bottom of their glass to bring them luck in the new year. Want to be lucky in love? Put a berry at the bottom of your glass. Want more money? Use a coin. Looking for fidelity? Drop in a wedding ring. Simply down the drink in one and collect your lucky charm.
5. Party 'til the sun comes up
Okay, you're fed, you're watered, your life is no longer in peril, now it's time to partaaay! What? You've already spent all evening with your family eating and drinking at a dinner that could feed the five thousand, stuffing your face with grapes and trying not to gag on your cava. You mean there's more? Oh yes, my friend. In Spain you party hard or go home.
Once you've kissed abuela goodnight, it's time for the real party to start with your friends. But first you'll have to choose where. Madrid is definitely the first port of call for anyone looking for an epic all-night rager. You can start the festivities by watching the live countdown with the thousands of other revellers who flock to Puerta del Sol. Expect an electric atmosphere filled with music, party blowers, confetti, streamers, people dressed up in wigs, hats and masks… everyone is here for a good time!
If you're in Barcelona you should check out Barcelona's Plaça Espanya for a spectacular light and sound display at the magic fountain, live stage performances and a firework extravaganza. Just a ten minute walk away, El Poble Espanyol hosts the city's biggest New Year's Eve Party for thousands of revellers. You can also check out Barcelona Life's extensive compilation of the best dinners, parties and shows to start 2020 with a bang! And don't worry about getting home on time — the metro runs all night!
If you're after something quieter, why not head north up Catalonia's coastline to Costa Brava where there are still plenty of parties in the bars, pubs and clubs, with the added bonus that when you inevitably you feel worse for wear the next day, you can take part in one of the many organised swims in the wintry Med. The bracing temperatures and strong sea breeze will definitely blow away that hangover.
Lastly, a personal favourite of mine is to get some winter sun in the Canary Islands. There's nothing that will make you feel quite so smug as relaxing on a warm beach on New Year's day while your friends are shivering their backsides off in colder climes. Plus, the canarios really know how to have a good time in their tropical island paradise!
Wherever you end up, one thing is guaranteed. Like everything else in Spain, the party will go on until late. Or early, as it may seem, sometimes until 6 or 7am. At which point you'll want to refuel after a night on the tiles with some churros con chocolate.
***
So now you know how to celebrate New Year's Eve the Spanish way: in your best red undies with your friends and family, dancing 'til churros breakfast time, and trying not to fall victim to the night's many choking hazards!
I really hope you've enjoyed Across the Water's last blog post in 2019! I look forward to sharing plenty of new articles with you in 2020 all about weird and wonderful Spanish traditions, where to go to eat, drink and have a great time in Barcelona, as well as tales from Brazil and further afield. As of next year I'll be posting every 2 weeks to give me more time to bring you more in-depth and well-researched articles, plus special features. I hope you'll agree they're worth the wait.
That's all for now. Sending you sunshine and positivity, this time from my native Newcastle!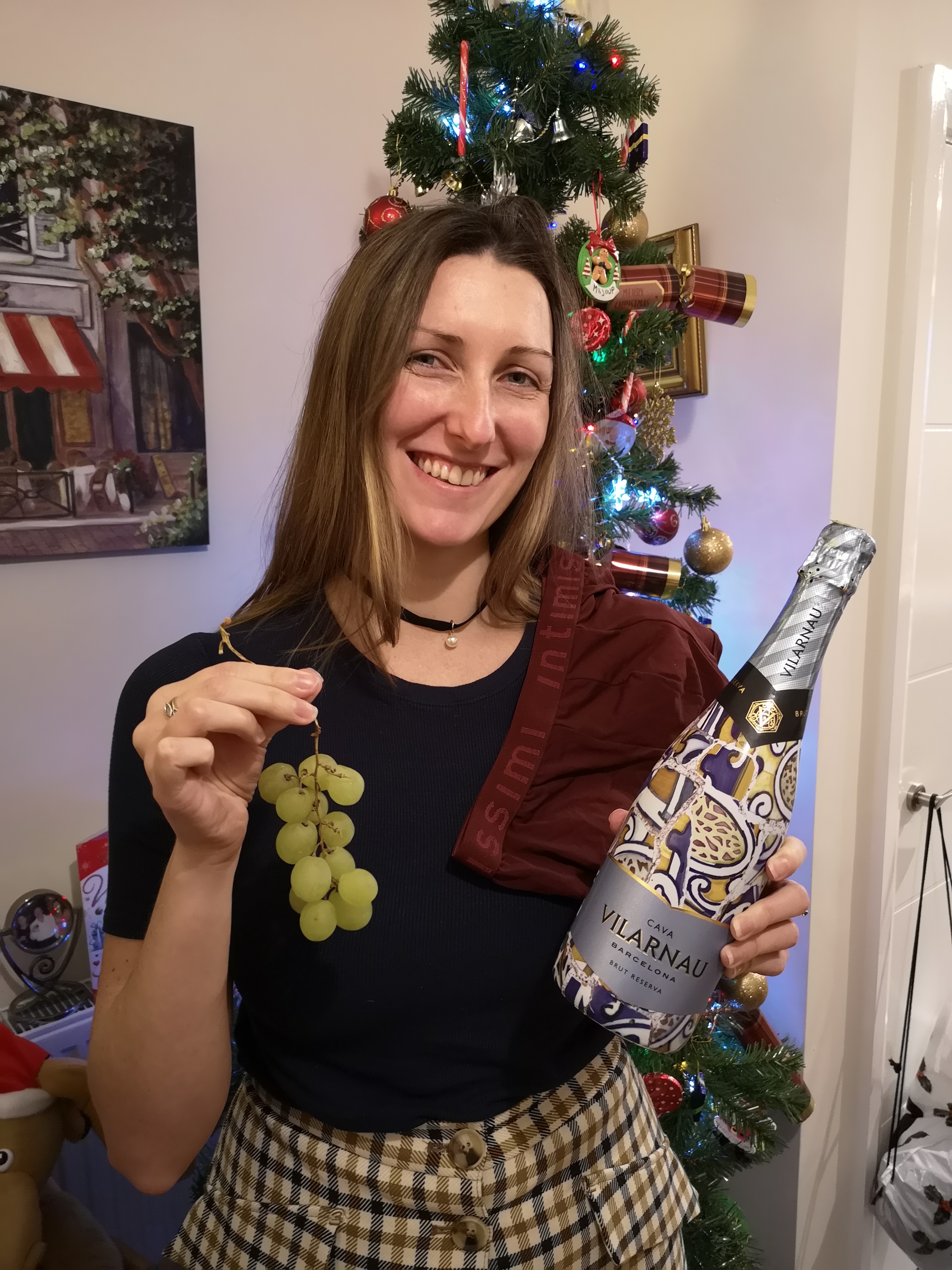 Sources:
https://www.npr.org/sections/thesalt/2016/12/27/506484561/in-spain-new-year-s-eve-is-all-about-the-grapes-save-the-bubbly-for-later?t=1577373916240
https://www.spain.info/en/reportajes/nochevieja-espana.html
https://www.thelocal.es/20181227/how-to-spend-new-years-eve-in-spain
https://www.donquijote.org/spanish-culture/holidays/nochevieja/
I love hearing from you! Scroll down to the comments below to leave me a message. And remember, sharing is caring!