10 Things That Surprise A First-Time Visitor To Greece
October 31, 2020
Are you a first-time visitor to Greece or a Greek interested in knowing what impression your country makes on a foreign visitor? Then this article is for you!
***
Crystal clear seas, white beaches, olive groves, smashing plates, Instagram-famous blue and white houses…
Even if you've never stepped foot there, you probably know I'm talking about Greece.
We've seen so many images of this world-famous country that you could think it has little else to offer. But Greece has a lot more up its sleeve to surprise and delight the curious traveller.
Want to find out what it's like beyond the typical images of storybook Greece? Want to know what to expect as a first-time visitor to Greece?
Then join me on an adventure starting in Athens' seedy redlight district and spanning across the Ionian sea to the isle of Zakynthos. You'll discover why Greek is so hard, why hipster Athens is a vegan paradise, why you should definitely consider packing your skis, and why you need to be prepared for poopy papers.
1. There's History Everywhere
Okay, this is arguably something you would expect from Greece. It's the cradle of Western civilization, the birthplace of democracy and countless legends, ancient gods and their magnificent temples after all.
But I don't think you can get an idea of the true scale of its historical richness until you arrive and are transported back in time to the Acropolis, the Parthenon, Theatre of Dionysus, Prison of Socrates, Athens' ancient Agora … to name just a few of the most well-known monuments in the Greek capital.
If you venture further afield to The Peloponnese, you can explore Sparta and Olympia, home of the ancient Olympic games. Travelling south to Crete you can get lost in the Palace of Knossos, home of the legendary Minotaur's labyrinth.
The country's home to 18 UNESCO world heritage sites and over 100 outstanding archaeological sites, but this is certainly just the tip of the iceberg as new archeological sites are being found all the time.
In fact, when construction of the Athens metro began in 1992, more than 50,000 historical artefacts were discovered buried in the ground, including old city walls, parts of an ancient bridge, vases, and even sarcophagi. Many of these artefacts are now exhibited in the city's metro stations and open to the public free of charge. Check out Syntagma, Monastiraki, and Akropoli stations to find 3,000 years' worth of history including graves, baths and amphorae.
There are countless more sites in Athens and beyond which archaeologists would love to excavate but cannot due to protests from people whose homes would have to be demolished and a chronic lack of archeological funding.
Which brings us to point two …
2. Athens is a City of Ruins – Modern and Ancient
Athens is falling apart: aside from the city's ancient ruins, Athens is full of modern rubble too. 
As a first-time visitor to Greece, one of my first and lasting impressions of Athens is that it's dirty, smelly and dilapidated.
Admittedly, my first impressions weren't helped by the fact we were staying in Metaxourgeio, a notorious red light district overrun by mafia activity. I'll think twice next time before booking an Airbnb with the headline "Live like a local". Of course there are pretty neighbourhoods like touristy Plaka, but what I saw during our week's stay was shocking, especially considering it's adjacent to the historic city centre.
While the COVID-19 pandemic has surely exacerbated Greece's financial problems, the urban decay started even before the 2008 financial crisis. It's honestly not an exaggeration to say that the level of squalor in some neighbourhoods was comparable to some impoverished parts of India . 
The pavements here are generally in a terrible, ankle-twisting condition and in some parts littered with excrement and used needles. Central city roads are pockmarked with crater-like potholes and so grimy you can barely make out the faded zebra crossings – not that drivers slow down to let you pass anyway.
Aged cars race around with little regard to the highway code past broken traffic lights spewing out suffocating exhaust fumes that cling to the hot air which is already impregnated with a stagnant sewery stench. A depressing number of homeless people, prostitutes, drug-users and stray cats wandering about aimlessly complete this picture of tragic neglect.
Overall though, Athens is probably a great place to live if you are a young artistic person with a small budget and a big project, as rent and living costs tend to be lower than in many other European capitals. The amount of interesting clandestine taverns, squats and art spaces humming with anarcho-syndicalist sentiment make this a city to settle in with a purpose.
3. Greek Generosity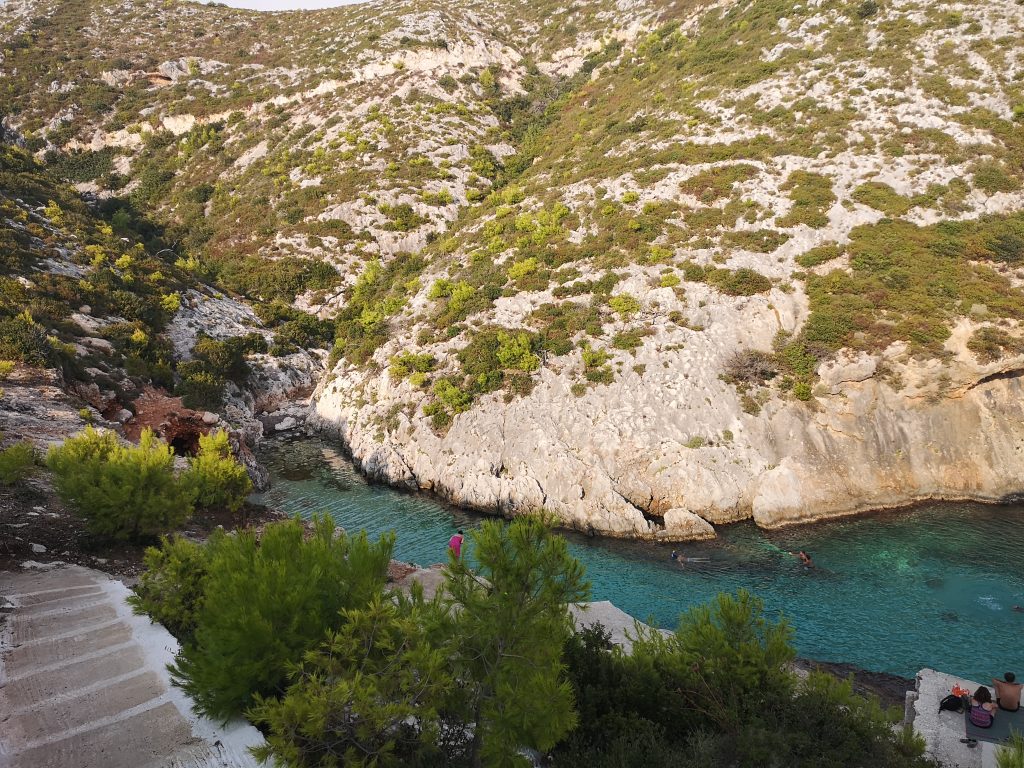 While in other big cities like Berlin or Barcelona you are often made to feel like an unwelcome guest, you really sense that the locals in Athens, and the rest of Greece, are genuinely happy to see you and always willing to help.
We experienced this first-hand when we went swimming with our car keys and needless to say, couldn't get the car to start. As luck would have it, there was absolutely no 3G coverage and the nearest village was about 6km away up dark winding mountain roads. It was also night time.
As we were considering whether to trek to the village or spend a cold and uncomfortable night in the car, our knights in shining armour appeared in the form of waiters from a nearby restaurant that was about to close for the day. I can imagine they were tempted to ignore us and drive home after their long shift, not wanting to be delayed by silly holidaymakers. Yet they came straight to our rescue.
Before we knew it they were opening up the bonnet, translating the Greek car manual, driving us to the village, calling a friend to come and drive us home, sitting with us in a café and offering us drinks on the house until our ride came, and making open invitations to visit.
This is just one of the many examples of Greeks going the extra mile to help strangers. But you'll have to visit and experience it yourself!
4. Freebies
We were also deeply impressed by the amount of freebies you're given. And there seems to be no limit to what and when. In our three-week stay, restaurant and hotel owners as well as shopkeepers, tour guides and taxi drivers gifted us, in no particular order and for no discernible reason: pumpkins, a replica ancient Athenian coin, vegan brownies, raki shots, a huge homegrown watermelon, a massive cream pie, grapes and a watermelon with chocolate sauce, rose jam and sprinkles on top. Oh, and lots of bottled water, but we'll get to that in point five.
We learnt that there's no point in protesting these little gifts. Just accept them graciously and under no circumstances try to pay for these favours. Maybe it's a very British attitude, but it's very easy to feel indebted when receiving gifts and you're tempted to square accounts as soon as possible. But don't do it, or Greeks are likely to feel offended.
How can you put a price on kindness after all?
5. Tap Water
Unlike in Germany, where requests for tap water are usually met with incredulity and offense, or Spain where no one in their right mind would offer you tap water because of the horrible taste, free filtered tap water is always offered in Greece.
You're often asked if you prefer tap water or bottled, with the tap water being free and the bottled usually coming at a small charge. When we ordered coffee, we always got a small bottle of water per cup as standard.
One of the most common questions from a first-time visitor to Greece is whether or not you can drink the tap water in Greece. Although there's conflicting advice, I personally like being in charge of my own destiny and am glad to be given the choice. We drank the tap water several times with no repercussions. I'm ashamed to say that we still wasted a lot of plastic buying disposable bottles though, and if we went back again, we'd definitely take a refillable bottle with an inbuilt filter. Again, tap water is perfectly safe across all EU countries – it just doesn't taste nice sometimes.
6. The Food
It's no revelation that Greek food is delicious, but what did come as a surprise is the cornucopia of delicious vegan eateries in Athens. Greece isn't known as being a particularly vegan or vegetarian-friendly country, but, at least in the capital, you can dine in a different vegan restaurant every night of the week.
To get you started, here's a list of our personal recommendations of best vegan eateries in Athens!
There's plenty of others too! Google Maps is your friend, just type in vegan restaurants. Oh, and if you just want traditional Greek fare – Athens has it all and it would be hard to find a genuinely bad eatery. A particularly authentic establishment is Olýmpion near Hadrian's Arch, serving mouth-watering home cooked dishes in an unassuming taverna at fantastic prices where many locals can be seen at all hours of the day.
7. Greek Police
One aspect of travelling abroad that I always enjoy is checking out the local police. Italy's forces have uniforms designed by Giorgio Armani and drive Lamborghinis, the majority of UK officers wear funny hats and are unarmed, and in Greece the police… well let's just look at them:
Greek police can usually be spotted sporting night blue uniforms, white helmets and full riot gear while either a) drinking coffee and smoking with their chums, b) restraining and arguing with anarchists (making them easy to mistake for Golden Dawn thugs), or c) zooming around in twos on tiny scooters (a cost-saving measure one can only assume).
The "Blue Virus" seem to be generally reviled by citizens – most people we talked to expressed their dismay at them or had a shocking anecdote to share about abuse of power or use of excessive force. Just type "Greek police" into Google to find countless cases of rising police brutality. In fact, Amnesty International published a 64-page report exposing the Greek police's use of excessive force and torture.
8. Impressive English, Impressive Greek
While we admittedly mainly interacted with people working in the tourism, retail and hospitality sector, this first-time visitor to Greece was blown away by the generally high level of English.
A telling benchmark is how many taxi drivers understand and speak English – and in Greece, every single driver of the dozens we encountered were all perfectly fluent. Some of it may have to do with many Greeks driving cabs as a second job to make ends meet, as we learned from our airport pickup who was a financial analyst moonlighting as a cabbie – but that's a different story.
In any case, especially compared to Spain, France and Italy, the general level of English in Greece is astounding! Which is a relief seeing as Greek is not an easy language ….
I love learning languages and generally pick them up quite easily but Greek is a different kettle of fish. In fact, Greek is one of the hardest European languages for an English-speaking person to learn.
You might think that's because of the Greek alphabet (a Greek word incidentally). But you can actually learn it within a week, especially if you already speak Russian. I'd even say it's quite fun decoding it, but then again I am a bit of a language nerd.
What makes Greek hard is its vocabulary. This might sound surprising seeing as a lot of our vocabulary has Greek roots: 'democracy', 'phobia', 'planet', 'acrobat', 'schizophrenia' etc. but Greek's a hellenic language, and as such isn't closely related to any other language in the world. While English has several political, philosophical, technological and scientific words of Greek origin, everyday words are usually very different. Take water: it's νερό (pronounced neró in Greek), bread is ψωμί (psomí), newspaper is εφημερίδα (efimerída), and so on. Because the words look so different, you need a lot of practice to remember them.
That said, I would definitely recommend that a first-time visitor to Greece should learn some holiday Greek. It will definitely impress the locals and you'll get to feel a ripple of glee as you decipher basic words on your restaurant menu. You can learn some useful Greek phrases here.
9. Greece is a Top Skiing Destination
When you think of Greece you probably think of gorgeous islands with crystal clear seas and white beaches, or the blue and white Instagram-perfect houses of Santorini. But did you know Greece has 24 ski resorts? See, I told you there was more to Greece than its beaches. It has 196km of ski slopes to explore.
Incidentally, it becomes clear why Greece is a candidate for skiing adventures when you investigate the country's name. The Greek word for 'Greece' is 'Hellas', with "Hel" coming from the Greek word for "sun", and "las" the word for rock or stone. So Greece is the land of sun and rock/mountains.
10. Poopy Toilet Papers
Last but not least, let's talk toilets.
Depending on where you're travelling from, Greek toilets can take some getting used to. Despite being the cradle of western civilization, the plumbing system is simply not up to the challenge of flushing toilet paper in the vast majority of the country. Greece's old, narrow pipes get easily clogged, and they'll break if they just look at a tampon or baby wipe.
Instead, you need to put all the paper in the small bin next to the toilet. This is easier said than done as you essentially need to reverse a habit of a lifetime. As a first-time visitor to Greece, you probably won't remember the first time, or even the second, but you'll get there in the end. It's not as convenient as throwing it down the toilet, but as long as the bin has a tightly-closed lid and you empty it every day, there shouldn't be nasty smells. It only becomes a problem if rubbish is left uncollected and slowly stews in the hot sun – a problem we sadly had on the beautiful island of Zakynthos.
With this in mind, it's a shame there's a notable absence of the bidets we have in Spain or the powerful bum guns found commonplace in India. After all, if you can't dispose of your poopy papers down the toilet, better to just use water, right?
So Know You Know the 10 Things that Surprise a First-time Visitor to Greece
If you've made it to the end of this article, well done! I hope you've enjoyed reading my impressions as a first-time visitors to Greece: we've journeyed through its ruins – ancient and modern, discovered the best vegan restaurants in Athens, learnt why you should give Greek police a wide berth, and importantly, are now mentally prepared for poopy toilet papers.
If you're planning on visiting Athens or Zakynthos, please get in touch. I would love to share my tips and suggestions to help you have an awesome Greek holiday.
Sending you sunshine and positivity from this Greek orthodox church!
Until next time on Across the Water…
If you've already been, what things surprised you as a first-time visitor ro Greece? Have you got any other comments you would add? I would love to hear from you in the comments section below!
I love hearing from you! Scroll down to the comments below to leave me a message. And remember, sharing is caring!